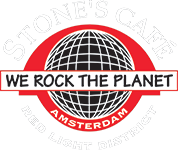 Food Menu
Take a look at our food menu.
Follow us on Instagram and Facebook to stay updated and get the latest info.
Healthy Muesli breakfast | €7.00
Yoghurt with muesli, banana and honey
Omelette | €8.50
Ham and cheese
Stone's toastie | €4.50
Ham and cheese
Extra | €0.50
Onions, tomatoes, pineapple or bacon
English Breakfast | €9.90
Fried eggs, sausages, bacon, tomato and beans
Go for jumbo | +€2.00
Dutch twins | €8.50
2 "van Dobben" meat Croquettes with bread
Egg & Bacon Sandwich | €7.50
Natural | €6.00
Extra | €0,50
Ham, cheese, bacon, apple or pineapple
Stones pancake | €9.00
With blueberries, strawberries, vanilla ice cream and chocolate sauce
Grilled Chicken Sandwich | €7.50
Sweet chilli, jalapenos
+ Bacon | €1.00
Club Sandwich | €9.90
Chicken, bacon, egg, cucumber, lettuce and tomato
Grilled wrap | €8.00
With pulled pork, cucumber, jalapenos and BBQ sauce
Spare ribs | €15.95
With fries and lettuce
Rib Eye Steak | €17.95
with garlic butter
Fish & chips | €13.50
Cod fish, ravigotte sauce, dutch fries and lettuce
Brownie | €7.00
Chocolate muffin with Salted caramel | €8.50
Nachos | €5.00
with guacomole, sour cream and tomato salsa
Nachos cheese | €9.00
with cheese, sour cream, olives, cappers, jalapenos
+ pulled pork | €2.00
Basket of fries | €4.00
bASKET of bREAD | €4.00
With garlic butter
Vegetarian springrolls (10 pcs) | €5.50
Chicken wings | €7.50
New York Chicken mini filets | €7.00
Bitterballen (mini meat croquettes) | €7.00
Bittergarnituur (fried appetizers) | €10.50
the bacon boss | €13.50
Crusty burger bun, mayonaise, cheddar cheese, pickles, caramelised onions, bacon and lettuce
the onion jack | €13.50
Crusty burger bun, fried onion rings, pickles, mayonaise, cheddar cheese and Lettuce
the Chick and cheese | €12.50
Crusty burger bun, chicken filet burger, mayonaise, cheddar cheese, caramelised onions, tomato and lettuce
the viva las vega | €12.50
Crusty burger bun, veggie burger, red onions, pickles, cheddar cheese, tomato and lettuce
We have only contributed to give a little more joy to their lives, memories, laughs and meetings that remain

Renee Donaghy
1 review





Great place to chill and smoke have a beer. Been here hundreds of times.

Lee Grant
5 reviews





Was there for my brothers 40th for the weekend and just spent it in here rally friendly place great bar staff and has a ball. Good music anaw. PS I don't even smoke and never felt out of place.

Fee Simmons
42 reviews





I love stones cafe coffee bar the music ambiance the aroma the decor it's the best in Amsterdam I also love stones sports bar with restaurant its perfectly located and the staff are friendly and I need not visit another coffee bar or sports bar STONES has it all covered Soon to return in 2020.

Barry de Flart
120 reviews





Nice, good music.

Paulien van den Berg
8 reviews





Stones café is always fun! I have such good times there 🙂

Chayenne Amsterdam
7 reviews





Love it here! Definitely the best cafe of Amsterdam whether it's for lunch or a good drink. I would really recommend Stone's café to everyone!